What is CBT?
Cognitive Behaviour Therapy (CBT) in a nutshell
CBT is a form of 'talking and doing' therapy. It focuses mainly on the problems facing you at the present time. We look at the past enough to understand how your current patterns of thinking and behaviour came about to start with. CBT then teaches you skills and techniques that help you shift your habitual patterns to new, more adaptive ones. At the outset, we will establish the goals for change that you want to achieve, so we can monitor your progress through treatment.
What conditions can CBT help with?
CBT is the treatment of choice for both anxiety and depression. It is recommended by NICE (National Institute for Health and Care Excellence) and by the NHS because many research studies have shown it is an effective treatment for many conditions, including:
Depression
Generalised anxiety
Social anxiety
Health anxiety
Panic disorder
Specific phobias
Obsessive-compulsive disorder, (OCD)
Low self-esteem
Post-traumatic stress disorder (PTSD)
Childhood trauma
Long-term physical health conditions that have psychological impact
Insomnia
Irritable Bowel Syndrome
What is a session like?
CBT is structured, with both the client and the therapist bringing topics to discuss in each session. You may wish to discuss difficult or distressing problems you have experienced this week. We will work together to identify new skills and techniques to help in this situation. After analysing a few situations that have caused problems, it will probably become clear that you are experiencing recurring patterns of thought and behaviour that are having a negative impact on your life. The treatment will focus on discussing these patterns and learning evidence-based CBT skills to address them.
Sessions are 50 minutes long and usually take place weekly. It is therefore important that agreed changes in behaviour or new skills learned in session are practiced outside of the therapy room. For this reason, "homework" will usually be assigned each week, following on naturally from what was discussed in session. Research shows that clients who practice the new skills regularly outside of the therapy session will progress considerably more quickly.
Most clients start to see benefit after a couple of sessions, and most will require around 5 to 20 sessions in total. Sessions may be face-to-face or via remote video-conferencing services.
What's the theory behind CBT?
CBT is based on the idea that the way we think about situations can affect the way we feel and behave. For example, if you interpret a situation negatively, then you might experience negative emotions as a result, and those difficult feelings might then lead you to behave in a certain way.
How does negative thinking start?
Negative thinking patterns can start from childhood onwards. For example, if you didn't receive much attention or praise from your parents or teachers at school, you might have thought: "I'm useless, I'm not good enough".
Over time you might come to believe these assumptions, until as an adult, these negative thoughts become automatic. This way of thinking might then affect how you feel at work, in relationships or in your general life.
If your negative interpretation of situations goes unchallenged, then these patterns in your thoughts, feelings and behaviour can become part of a continuous, vicious cycle: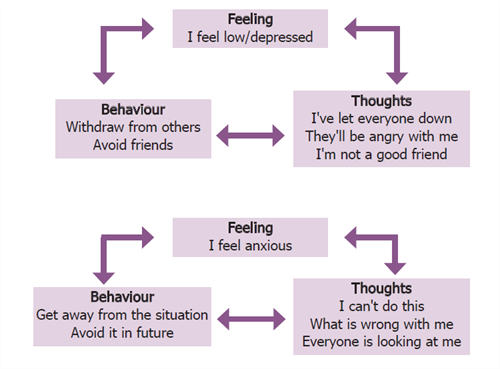 In CBT, we will work on these vicious cycles and help you break away from them.